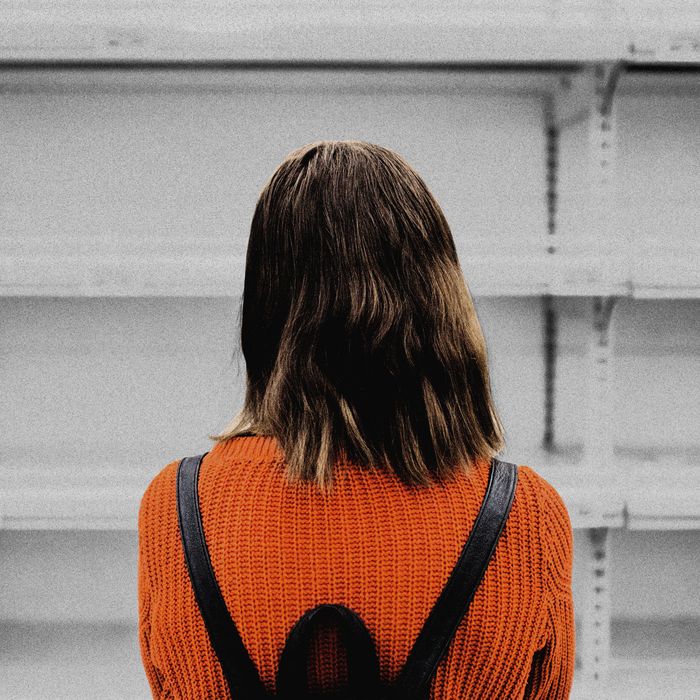 Photo-Illustration: Intelligencer; Photo: Getty Images
On February 21, the Washington Post published a story titled, "A fast, at-home coronavirus test will be available to Americans this year." At the time, public-health officials had been calling for fast, widely available at-home COVID-19 tests for months, saying that allowing people to determine whether they're infected without lining up at a clinic or waiting days for lab results could help turn the tide in the pandemic. As the Post reported, the White House was finally trying to make that a reality, awarding a nearly $232 million contract to help Ellume scale up production.
But as we approach the end of 2021, at-home COVID tests can still be difficult to find in the U.S. Throughout the fall, home tests were frequently out of stock at pharmacies and online retailers. And now, with holiday travel plans and the emergence of the Omicron variant straining America's COVID testing capabilities in general, CVS, Walgreens, and Walmart have limited the number of home tests that can be purchased online, and in some areas pharmacies are jacking up prices. This week President Biden announced that the government will purchase 500 million at-home rapid tests and ship them out for free to anyone who requests one – but the program won't start until next month.
So why are home COVID tests, which are cheap and widely available in other countries, still so hard to find in the U.S.? Where can you buy a home test and what are your options? And when, if ever, will we Americans know the joy of jabbing a swab up their nose whenever they please? Here's what you need to know.
Why are at-home tests in short supply?
In many Asian and European countries, at-home COVID-19 tests are cheap and easy to find in stores. CBS News reported that home antigen tests are now used routinely in the U.K., where they are free and "readily available at pretty much every pharmacy in the country."
The situation is drastically different here because U.S. health officials focused on getting people vaccinated against COVID-19 and never leaned into asymptomatic testing as a strategy to fight the pandemic. While some foreign governments moved quickly to encourage screening and subsidize the cost of at-home tests, the Food and Drug Administration's approval process moved much more slowly. The agency issued its first approval for a fully at-home antigen test, Ellume's, in December 2020, and it took some time for it to become available to the public.
The FDA said it needed to ensure that the tests were accurate, but many scientists countered that the agency was letting the perfect be the enemy of the good. Rapid tests can quickly identify around 98 percent of infectious COVID cases; they're not as sensitive as PCR tests, which can catch even noninfectious cases but need to be sent to a lab for processing. Harvard epidemiologist Michael Mina, who has been one of the most vocal proponents for mass testing throughout the pandemic, argued that U.S. officials focused too much on the accuracy of rapid antigen tests versus PCR tests, which obscured the former's tremendous value.
"If the target is infectious people — which is really the most important public-health target — then these [rapid antigen] tests become extremely accurate," Mina told Intelligencer in December 2020. "And that's the issue — we shouldn't be using a medical target, we should be using a public-health target. If they are being used for medical diagnostic purposes, they might not be as accurate as you would like, but as a public-health tool, they're very accurate."
Due to these regulatory and messaging hurdles, the market for at-home antigen tests was slow to develop in the U.S. For much of the last year, Americans couldn't obtain the pricey tests, and their diagnostic value wasn't clear to the public. Demand for the tests dropped even further in the spring of 2021, when COVID cases plummeted and the CDC said vaccinated people did not need to get tested if they were asymptomatic, even if they'd been exposed to someone who was COVID-positive. This summer, there was so little interest in rapid antigen tests that Abbott Laboratories, by then the nation's biggest producer of the tests, shut down one of its factories, laid off workers, and destroyed testing components, according to a New York Times report. (The company claimed the materials had a limited shelf life and couldn't be donated overseas.)
Thus, when the Delta variant, breakthrough cases, and people returning to work and school drove up demand for at-home testing in the fall, the U.S. was unprepared, and stores couldn't keep the tests in stock.
Which tests has the FDA approved for at-home use?
There are three types of COVID-19 tests:
Antigen tests, which test for an active infection by detecting specific virus proteins. Most at-home tests and "rapid tests" performed by healthcare providers fall in this category.
Molecular tests, which test for an active infection by amplifying genetic material from the virus. These are considered the "gold standard" for diagnosing COVID, as they are generally more accurate than antigen tests. The most familiar test from this category is the polymerase chain reaction (or PCR) test, which requires lab processing. The category also includes loop-mediated isothermal amplification (LAMP) tests, and clustered, regularly interspaced short palindromic repeat (CRISPR) tests. There are a handful of tests in the former two categories that can be performed at home, providing users with results in a matter of hours or minutes, as opposed to days with PCR.
Antibody tests, which are blood tests that determine if the body has had an immune response to the virus. These tests are not used for diagnosing an active infection.
The FDA has issued emergency-use authorization for a variety of COVID-19 tests. At-home collection kits – which allow people to collect their own sample at home, mail their results to a lab, and get results within days – are available for each type of test. But when people lament the lack of at-home testing, they're usually talking about rapid antigen tests that allow users to swab themselves and get a result in as little as 15 minutes, without any lab processing and without a prescription. The FDA has approved 13 tests that meet this criteria. These are the brands that are currently available from major retailers:
Abbott BinaxNOW
Cost: $14 to $23.99 for two tests.
Sold at: Abbott's website sells the tests directly, and online at CVS, Walmart, Rite Aid, Sam's Club, and Walgreens. As of this writing they were in stock for shipping at the following stores: Walgreens ($23.99) and Walmart ($14). The tests are also sold in store, but availability varies by location.
Accuracy: The test correctly gave a positive result 84.6 percent of the time, compared to a PCR test, and correctly gave a negative result 98.5 percent of the time, according to data submitted to the FDA.
Quidel QuickVue At-Home COVID-19 Test
Cost: $23.99 for two tests.
Where to purchase: Amazon, CVS, HEB Pharmacy, Hy-Vee, Optum, Pharmacy and Wellness Center, Simply Medical, Tops, Walmart, Walgreens. As of this writing, tests were not in stock online at any of these stores.
Accuracy: For people with symptoms, the test gave an accurate positive result 83.5 percent of the time and an accurate negative result 99.2 percent of the time, compared to PCR, according to data submitted to the FDA.
Ellume COVID-19 Home Test
Cost: $26.10 for one test.
Where to purchase: Ellume's website says the test is sold at Amazon, CVS, Everlywell, Target, and Walmart. As of this writing, it was not in stock at any of these stores online.
Accuracy: The company says that the data it submitted to the FDA "demonstrated 96 percent accuracy, with an overall sensitivity of 95 percent (positive percent agreement) and specificity of 97 percent (negative percent agreement) when compared to an emergency use-authorized RT-PCR laboratory test." On October 5, the company recalled hundreds of thousands of its test kits after finding that there was a higher-than-expected potential for false positives due to a manufacturing issue.
On/Go COVID-19 Antigen Self-Tests
Cost: $23.99 to $34.98 for two tests.
Where to purchase: Amazon ($29.99), Walgreens ($23.99), Walmart ($34.98), and directly from On/Go. It was in stock at Amazon, On/Go, and Walmart as of this writing.
Accuracy: The test correctly identified 87 percent of positive samples and 98 percent of negative samples, compared to PCR, according to data submitted to the FDA.
iHealth COVID-19 Antigen Rapid Test
Cost: $13.98 to $21.99 for two tests.
Where to purchase: Amazon ($17.98) Sunline Supply ($19.95 if you buy at least 10 boxes), 360 Health Services ($17.95), MDmaxx.com ($18.99) HPFY ($21.99), and directly from iHealth ($13.98). It is current in stock at every store except MDmaxx.com.
Accuracy: In a clinical test involving symptomatic patients, the iHealth test correctly identified 94.3 percent of positive samples and 98.1 percent of negative samples compared to PCR, according to information submitted to the FDA.
Flowflex COVID-19 Antigen Home Test
Cost: $9.99 for one test.
Where to purchase: CVS ($9.99), Walgreens ($9.99). It is currently out of stock at both online stores. Flowflex's website says the tests are also available at RiteAid and Target but there was no listing on those stores' websites as of this writing.
Accuracy: In a study of symptomatic and asymptomatic patients, the Flowflex test correctly identified 93 percent of positive cases and 100 percent of negative cases compared to PCR, according to data submitted to the FDA.
InteliSwab COVID-19 Rapid Antigen Home Test
Cost: $14 to $23.99 for two tests.
Where to purchase: Walgreens ($23.99) and Walmart ($14). As of this writing the test was out of stock online at both stores.
Accuracy: In a clinical study of symptomatic patients, the InteliSwab test correctly identified 84 percent of the positive cases and 98 percent of negative cases, compared to PCR, according to data submitted to the FDA.
In addition to these antigen tests, there is now another at-home COVID testing option. A few fully at-home molecular tests are now available to U.S. consumers at (sort-of) affordable prices. Cue, Detect, and Lucira are now selling home molecular tests in the U.S., without a prescription. All three, which received emergency use authorization from the FDA, are billed as having "PCR quality results," though each uses a molecular process that is slightly different from the PCR method. Some foreign nations accept results from certain LAMP tests for travel, if they are performed under the observation of a medical professional.
These are the costs and features of each at-home molecular test:
Cue COVID-19 Test
Accuracy: Information the company submitted to the FDA said that in a clinical study involving 273 subject, Cue correctly identified 97 percent of positive samples and 99 percent of negative samples, compared to a PCR test.
Cost and where to buy: CueHealth.com sells a Cue Reader for $249 and a pack of three tests for $225. A bundle including one reader and three tests costs $474 and a bundle including one reader and ten tests costs $949.05. The company also offers a membership program for $49.99 or $89.99 a month that offers product discounts, in-app access to primary care doctors, and supervised tests.
How to perform the test: Cue's test involves a four step process: insert a cartridge into the small square reader, swab both nostrils, insert the swab into the cartridge, and get results on the Cue Health app in 20 minutes.
Detect COVID-19 Test
Accuracy: The instructions posted on FDA.gov say that when compared to a PCR test, the Detect test correctly identified 90.9 percent of positive cases and correctly identified 97.5 percent of negative cases. The company notes: "Both apparent false positives were due to subject's misinterpreting the test result; the Detect App has since been modified to significantly reduce the frequency of this user error."
Cost and where to buy: Detect.com sells a starter kit for $75 (currently discounted from $88) that includes one COVID-19 tests and a reusable Detect Hub. Additional COVID-19 tests cost $49 and additional Hubs cost $39. A video observation of the test, so it can be used for travel, costs an additional $20.
How to perform the test: After a sample is collected it needs to process in the Hub for 55 minutes. Then the tube must be inserted into a reader along with a liquid, which will show results in 10 minutes. In addition to the test and hub, users must download a free smartphone app.
Lucira Check It COVID-19 Test
Accuracy: Lucira's website says that in two studies involving symptomatic and asymptomatic individuals, Lucira's test identified 97 of positive cases and 98 percent of negative cases compared to PCR, "excluding samples with very low levels of virus that possibly no longer reflected active infection." When the 10 samples with very low viral loads were included the test had 92 percent positive agreement and 98 percent negative agreement.
Cost and where to buy: LuciraHealth.com sells a single-use test kit for $75 (the list price is $89, but it is currently discounted). Amazon sells the kit for $89. You can also buy one test with a video observation for traveling to Hawaii through Azova.com for $89.
How to perform the test: Lucira's website says you can see "results in as fast as 11 minutes for a positive result and 30 minutes for a negative result."
Are at-home rapid tests able to detect the Omicron variant?
The manufacturers of at-home kits say they will show a positive for people infected with any version of COVID-19, but they cannot determine if someone is infected with the Omicron variant specifically (and the same goes for Delta). Per Time Magazine:
Even if the [omicron] variant were here, could existing tests tell if someone were infected by it? Testing experts say yes and no. The majority of tests used by commercial and public health labs can detect SARS-CoV-2, but they can't confirm which version of the virus is present. That's because the tests intentionally target parts of the virus that don't change much. Variants are designated based on differences in mutations—in Omicron's case, especially those in spike protein, a part of the virus that changes frequently to bypass drugs and immune cells, and thus are difficult to test for. So the majority of the tests available will show if a person is carrying the virus—but there's no way to tell whether that virus is Omicron.




For that, a doctor would have to send your sample to a lab that can then sequence genetically to look for the genetic signatures unique to Omicron.
What is the Biden administration doing about the at-home COVID-test shortage?
On his first full day in office, President Biden signed an executive order instructing government agencies to use the Defense Production Act to increase the availability of various items needed to fight the pandemic. Materials for rapid antigen tests were among the many items on the list — along with N95 masks, surgical gowns, gloves, needles, and syringes — but at the time, lab testing delays were a more pressing concern.
By late August, PCR testing was widely available with nearly 2 million tests being performed daily in the U.S. But with the emergence of the Delta variant and schools and workplaces looking to make regular screening part of their reopening plans, attention turned to the lack of at-home antigen tests. President Biden announced in a televised September 9 address that he was making at-home testing a major element of his plan to manage the pandemic, and would invoke the Defense Production Act to make them more available. Biden said Walmart, Amazon, and Kroger would sell the tests at cost for three months, and his administration would spend $2 billion on about 280 million rapid tests that would be distributed to places like community health centers, food banks, and schools.
However, the tests remained in short supply over the coming weeks, prompting the White House to announce on October 1 that it would invest an additional $1.2 billion to obtain millions more rapid tests from Abbott and Celltrion. In addition to ramping up production of tests already on the market, the government said it was also working to speed up the approval process. The Department of Health and Human Services announced on October 25 that the FDA would streamline its authorization process, and the National Institutes of Health would spend $70 million on a new program to "establish an accelerated pathway" to aid test makers seeking approval for their products.
In early December, President Biden announced plans to ramp up at-home testing by ensuring that the tests will be essentially free for Americans with health insurance, as part of a broader plan to combat emerging variants. (The Department of Health and Human Services will release formal guidance by January 15.) "More than 150 million Americans on private health insurance will be able to submit receipts for at-home tests directly to their health insurance plans," Jeff Zients, the White House COVID-19 coordinator, said. "They can go to their local pharmacy, they can order online and then get reimbursed." For those who don't have health insurance, there will ostensibly be "thousands of locations" such as clinics, health centers, and pharmacies where COVID-19 test kits are available for pickup.
When White House Press Secretary Jen Psaki was asked at a press briefing on December 6 about why they administration chose such a complicated route for making free at-home tests more widely available, she gave a glib response, asking "Should we just send one to every American?" (In other, albeit much smaller, countries the government does mail out free tests.) On December 21, President Biden announced that the federal government would do just that, making 500 million at-home rapid tests available to Americans who request them. But the shipping program won't start until January and it's unclear how it will work.
When will more tests be available?
The White House said in early December that "we are on track to quadruple the supply of rapid at-home tests that we had in late-summer." But despite the administration's efforts it's unclear if that will be enough to meet the skyrocketing demand for tests during what's expected to be a massive COVID surge in the U.S. this winter.
The reality is, in the U.S., at-home COVID testing may never be as cheap or as widespread as it is in places like the U.K. Dr. Michael Mina told NPR in October that while he's happy to see the Biden administration devoting more resources toward rapid testing, "it's not enough, and it's not fast enough. America is so far behind our peer nations."
This post has been updated throughout.