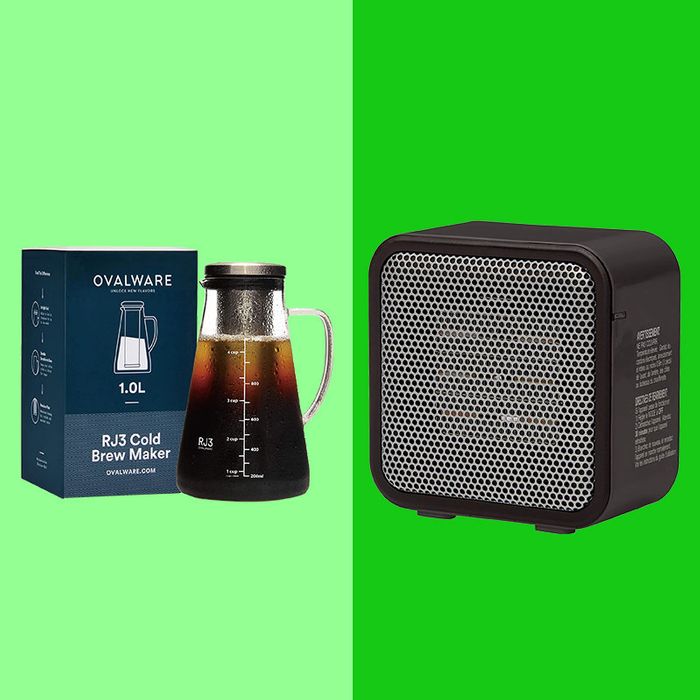 Photo-Illustration: The Strategist; Photos: Retailers
Buying a holiday gift for your boss is a lovely idea that can also feel like a minefield. Spend too much and you risk making them uncomfortable; spend too little and you might as well not get anything at all. The gift should feel familiar but maybe not too familiar, and it should reference something unique about them. At best, it will celebrate some of their interests outside work. To make the hunt easier, we found gifts for every type of boss out there from fitness obsessives to coffee drinkers to working parents to people whose Zoom backgrounds are a wall of plants. While all of the 36 gifts below can be found on Amazon, we found some at other retailers too. Many will even arrive by Christmas, if you order today, and we've noted those that won't.
For the boss who always writes things down
Photo: retailer
If they can't go a day without passing you scraps of paper with to-do lists or notes about their next big project, your boss will appreciate this waterproof notepad, which crime writer Karin Slaughter uses to craft plots in the shower. "Each pad contains 40 sheets which are perforated at the top," Slaughter says. "This is great because they're super-easy to tear off."
For the boss who is terrible with time
This simple, friendly timer is small enough to fit on a desk at the office or at home. As one contributor tells us, the 60-minute timer is a great motivational tool: It has "a visible red disk that slowly disappears as time runs out," and "when time's up, the clock simply emits a few beeps I would classify as 'pleasant.'"
For the boss who wishes their lunch were more exciting
A pinch of this flaky smoked sea salt from Icelandic company Saltverk — which produces its salts using sustainable geothermal energy —should zhuzh that lunch right up. Strategist contributor Hannah Howard says, "I'd never before experienced a smoked sea salt that was quite so satisfying."
For the boss who is known to leave some crumbs behind
Most napkins would feel too informal to gift. But these from Caspari, which former senior editor Anthony Rotunno describes as "museum quality," are not just any napkin. The 70-year-old brand collaborates with museums on some of its designs.
For the (ecofriendly) boss who is known to leave some crumbs behind
If they're trying to minimize waste, your boss may prefer cleaning up with these Swedish dishcloths that contributor Ashlea Halpern uses in place of paper towels. Made of 100 percent naturally biodegradable cellulose, they're super-absorbent and pretty, too.
For the boss whose office is a kitchen table
If your boss is working from home, this clever desk accessory elevates a laptop by six inches, allowing them to maintain a more comfortable posture while they Slack. It comes in several shades including metallic blue and rose gold.
For the boss who has a windowless office
This simple, elegant iron desk lamp was praised by designer Shannon Retseck for its "no-fuss design" and for looking more expensive than it is. [Editor's note: This item will arrive after Christmas.]
For the boss whose office is lined with bookshelves
Tyler Mitchell, the first Black photographer to shoot a cover of Vogue, published his first monograph this past summer. It comes recommended to us by a couple of people, including photographer Andrew French, who says Mitchell "has been influencing photographers new and old with his brilliant narratives."
For the boss who loves a stroll
Endorsed by Cecilia Alemani, the director and chief curator of High Line Art, this coffee-table book offers a "new, in-depth look at the High Line gardens" with text by Piet Oudolf, the horticulturist who designed the elevated park's landscape. [Editor's note: This item will arrive after Christmas.]
For the boss who just got engaged
Engagement gifts can be tricky, especially when you know only half of the couple. When in doubt, send a plant. Erin Marino of the Sill recommends calatheas, which are "colorful and ornate, so they're gorgeous to give" as well as being safe for pets and adaptable to a range of light conditions. This one comes with a biodegradable planter, so there's no need to repot before gifting. [Editor's note: This item will arrive after Christmas.]
For the boss whose office accumulates mugs
For the boss who just came back from parental leave
Being a new parent is stressful. Help your boss relax a little with this massage scarf from L.A.'s cult-favorite brand Etekcity. It provides heat and massage, and it's compact enough for them to bring to the office. [Editor's note: This item will arrive after Christmas.]
For the boss who hates pens