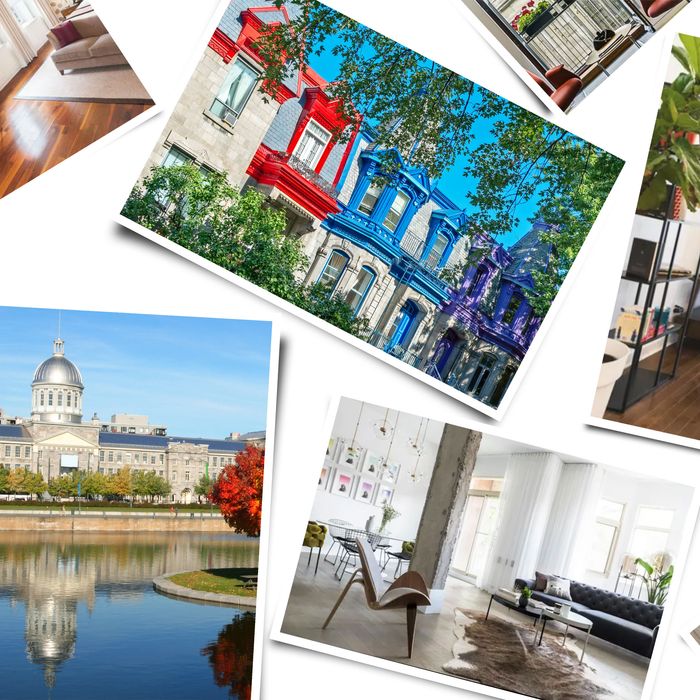 Photo-Illustration: The Strategist; Photos:Getty/Courtesy
For many North Americans, Montréal is the easiest way to take a Europe vacation without actually going transatlantic. Be it the Québecois French language or the widely encouraged 5 p.m start time to happy hour, Montréal feels like a little French outpost in Canada. But that doesn't make it a carbon copy. Montréal also has plenty of its own idiosyncrasies: Mont Royal, a literal mountain in the city center; DJs playing underground beneath 500-year-old archways; Habitat 67, a Brutalist Moshe Safdie building from the 1967 World Expo; the Canadiens hockey team, beloved by seemingly everyone in town; plus steamed hot dogs, honey-boiled bagels, and, of course, poutine. Montréal is also exceptionally walkable — at least in the spring and summer. For those going from mid-December to February, just know you'll need a parka and snow boots.
There are a few neighborhoods to keep in mind when booking a stay. To get a sense of historic Québec, Vieux Montréal is a cobblestone area dense with architectural landmarks (and other tourists). Another historic option is nearby Le Plateau, where the main streets (Rue St Laurent and Mont Royal) are home to Francophone restaurants and French-speaking locals. Griffintown and Little Burgundy have more English speakers and are increasingly popular with thirty-somethings living in new high rise apartments. And for younger crowds, coffee shops, funky bars, and all-night DJs, head to Mile End. To find out where to stay in any of these neighborhoods, we surveyed 20 cool people who told us about the best castle-like hotels, brownstones-for-rent, and hostels for fast-friending.
The
best
fancy
hotels
in
Montréal
The
best
low-key
hotels
in
Montréal
"I love pointing people here," says New York pastry chef Natasha Li Pickowicz, "because it's perfectly situated halfway between the Mile End in the northeast and Downtown." Nestled in Le Plateau, the building is late 19th-century French Renaissance Revival — like a "chic mansion completely covered in these giant gleaming white terracotta tiles and with an extremely discreet vibe." The rooms themselves are ornate but minimalist: Think tall bay windows with little more than a bed and chaise lounge next to sleek, wood-burning stoves. She often books rooms for her parents, who allegedly love the cozy French breakfast they provide in the mornings. For Nascimento, Casa Bianca is a "true work of art, with a 1970s chalet fireplace in every room that has very après-ski vibes." When Nascimento crashed a friend's stay a few years ago, she particularly enjoyed being so close to the park while having "a sweet breakfast on the patio in the friendliest little nook."
Zach Pollakoff, music producer and co-founder of Likeminds (a creative conference–summer camp hybrid), suggests this bed and breakfast for anyone who wants an entire row house to themselves. The entire property includes three brownstones tucked away in the city center, Ville Marie. For Pollakoff, the stay itself was "entirely unexpected" because it was "just out of sight, but close to everything," nestled between Old Montréal (a tourist center) and Downtown (a late-night hub). Its rooms are a mix of old and modern: tiled, old-school jacuzzi bathtubs and fireplaces; walls painted bright green, yellow, and periwinkle. (One notable quirk: Each room has artwork featuring figures holding hands in a circle, all from the owner's brother's private collection.)
Photographer and New York Times contributor Dolly Faibyshev decided to skip "the fancier hotels in Old Montreal" and chose Boxotel for its overall accessibility in design and price. "It's a cool, economically designed, unpretentious hotel," Faibyshev says, noting that it does, however, have heated floors. Faibyshev is one of three people who recommend this property, which sits in the heart of Montréal's entertainment district, the Quartier de Spectacles. It's surrounded by cobblestoned streets, quirky restaurants, and the Montreal Museum of Fine Arts. (Faibyshev went to see the Thierry Mugler fashion exhibit in 2019.) "We came by car and brought our bikes," she says, "and it was the perfect home base."
Zoë Desborough, who runs a BIPOC- and LGBTQ-inclusive crochet shop in the Verdun neighborhood of Montréal highly recommends this Latin Quarter bed and breakfast, for those into Victorian-era ephemera or Royals-related anything. The rooms are decorated with nude period paintings and include copper baths and elegant, wooden vanities, and Desborough says it's an "excellent spot for an overnight stop" because of its proximity to Downtown, which is the "core for all nightlife." Plus, the hotel is just next to the Underground City — an interconnected web of tunnels featuring restaurants, shops, and offices — which Desborough says "makes traveling during bad weather a breeze."
For those less concerned with bedroom décor and more interested in meeting the locals, Pickowicz recommends this simple guest house in the heart of Mile End. "It's right above my favorite music venue and hangout in Montréal, Casa del Popolo," she says, "and its larger sister venue, Sala Rossa, is across the street." Both venues host an array of eccentric, emerging indie singer-songwriters, from a tribute band for saxophonist Thomas Chapin to Carribean record band Canicule Tropicale. The accommodations are fairly basic (chintzy comforters, random artwork), but Pickowicz says it's an "extension of the community" and calls the location "unbeatable."