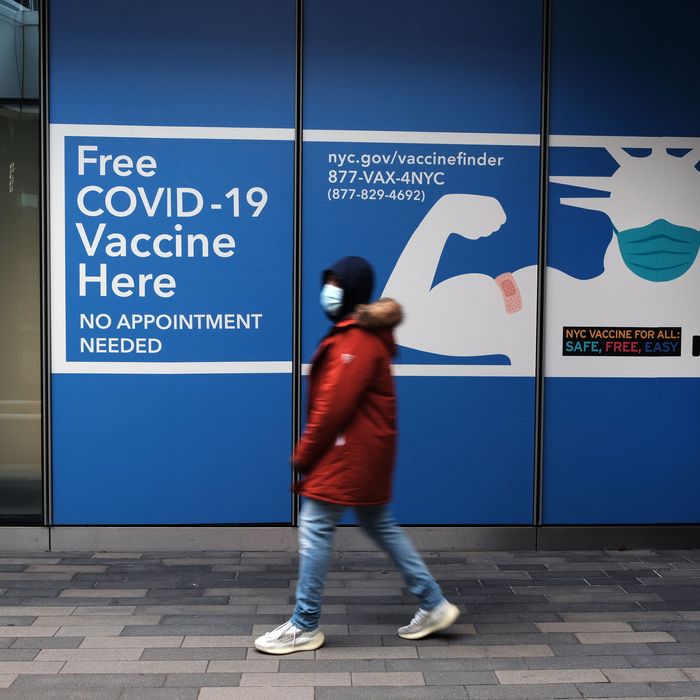 A New Yorker walks by a sign for a vaccine site in Staten Island on November 29.
Photo: Spencer Platt/Getty Images
New York is one of at least dozens of states where cases of the worrisome new Omicron variant have been detected in the U.S. While it's not clear how many Omicron cases have been detected in the state, recent regional data released by the CDC suggests that the new variant is spreading quickly. The state was already experiencing a surge in COVID-19 cases from the Delta variant. Below is what we know about the spread of Omicron in New York.
De Blasio vows 'no more shutdowns,' offers $100 incentives for boosters
In a press conference on Tuesday, December 21, Mayor Bill de Blasio offered $100 incentives for New York City residents who have not yet gotten booster shots, offered at city-run sites on or before December 31. The list of sites offering the incentives and shots is available here. Despite the unprecedented surge in cases in the city caused by Omicron, he also vowed not to shut down the city again, similar to the Biden administration's approach at the national level. "No more shutdowns," he said. "We've been through them. They were devastating. We can't go through them again. In this case, we weather the storm because we were prepared with a high level of vaccination already, prepared with a strong health care system, prepared to get through. We need to all work together to get through these weeks, come out the other side, continue our recovery. No shutdowns, because that would devastate the lives of so many New Yorkers."
Rikers is filling up with COVID
On Tuesday, the commissioner of the New York City Department of Correction Vincent Schiraldi issued a statement describing how intense the outbreak has been on Rikers Island:
Governor Hochul announces boost to at-home testing in New York
Without all the fanfare of prior gubernatorial COVID press conferences, Governor Kathy Hochul appeared on Monday, December 20, to report out the state's data, which included around 23,000 positive tests on Sunday, another new daily record. Over the past five days, over 100,000 New Yorkers have tested positive for the virus, though current hospitalizations, at 4,020, remain far lower than during prior waves.
The governor also announced new measures to expand testing amid the surge in demand, including 5 million at-home PCR tests delivered on January 1 and another 5 million coming later in January. Of these, 2 million will go to school districts, 1 million will go to county emergency managers, and another 1.6 million will go to New York City.
City-run testing sites to expand this week
To help meet the surge of demand in testing throughout the city caused by Omicron concerns and holiday plans, New York City Health + Hospitals will open eight new brick-and-mortar sites by Tuesday and 17 more mobile sites by the end of the week. With these additions, the total number of NYCH+H testing options will include 30 brick-and-mortar and 93 mobile sites. As hours-long waits are reported in many private locations throughout the city, Test and Trace Commissioner Ted Long claimed Sunday that "many of our sites will turn around a result for you within 12 to 18 hours and most of them have rapid testing."
De Blasio calls on Biden to invoke Defense Production Act
At a press conference on Sunday, Mayor Bill de Blasio addressed President Joe Biden, requesting that he provide federal resources to help meet the need in New York City and beyond. The outgoing mayor said the president must utilize "every tool" available, including using the Defense Production Act — which allows the White House to make private firms prioritize orders from the federal government — to increase the number of at-home testing kits. "We are feeling the omicron wave especially hard right now but we know it's going to be all over the country," de Blasio said. "This whole country needs go on a war footing to fight back."
COVID-19 cases are spiking both statewide and in New York City
The state reported Sunday that more than 22,000 people had tested positive for COVID-19 in the previous 24 hours, including almost around 12,400 cases in New York City. The number of confirmed Omicron cases on Saturday in New York City stood at 192 — though there are undoubtedly more. On Friday, Governor Kathy Hochul reported that there were 21,027 new positive cases of COVID-19, a new single-day record for the state. New York City recorded almost half of those new cases, per NBC New York:
In New York City, where testing lines have wrapped around blocks and people report wait times well over an hour, 10,286 positive cases were reported Friday. That total is up 20 percent from the previous day, and 100 percent from two days earlier. It's also the highest reported testing day for the city since the beginning of the pandemic and the first time the city saw more than 10,000 cases in a single day.
It is not clear precisely how many of the new cases are from Omicron and how many are from the Delta variant, but it's likely Omicron is fueling the surge. The CDC collected COVID-19 data from HHS region two, which includes New York, New Jersey, the Virgin Islands, and Puerto Rico. In samples from December 5 to 11, 13.1 percent of those analyzed were found to be the Omicron variant. That is a significant increase from the previous one-week period, which registered 2 percent of the samples as Omicron.
Governor Hochul said Friday that the state is working to double its supply of at-home COVID tests for New Yorkers.
Ahead of the Omicron wave, daily COVID cases in New York State had been rising steadily, driven by the Delta variant, since the beginning of November. The number of daily COVID hospitalizations in the state has also been rising since the middle of November.
The city will provide at-home testing and KN95s to New Yorkers
Mayor de Blasio announced Thursday that the city will provide free at-home COVID-19 tests and KN95s to New Yorkers in response to the recent surge in cases. NYC Test & Trace Corps and the NYC Health Department will distribute the 1 million masks and 500,000 tests through community-based organizations, with groups receiving their first allocations starting on Monday.
This post has been updated.