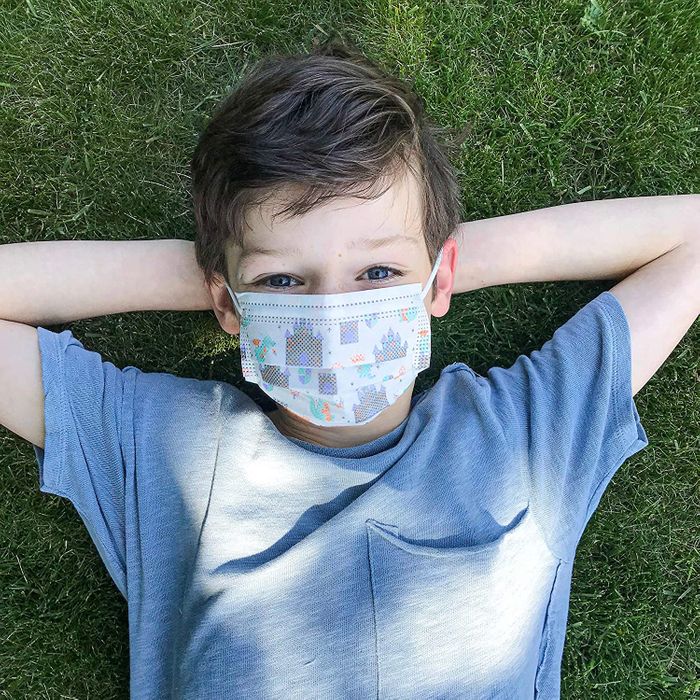 Photo: Courtesy of the vendor
Since the pandemic started, the CDC has recommended that children over the age of 2 wear face masks in public to slow the spread of the coronavirus. And now, with the incredibly contagious Omicron variant dominating all new cases in the U.S. and the holiday season upon us, masks are as important as ever. The CDC still recommends that all students, teachers, staff, and visitors wear face masks in K-12 schools regardless of vaccination status. But according to Dr. Purvi Parikh, an immunologist with NYU Langone Health, everyone (children included) should level up from reusable fabric masks to medical-grade masks and even consider double-masking. "Do not take this variant lightly. It spreads much more easily, replicating 70 times faster than the Delta variant in people's airways, even among vaccinated people. Children should be wearing medical-grade masks and double-masking if they can tolerate it, especially if they are unvaccinated," she says.
In addition, if you plan to travel or gather with friends and family over the holidays, Parikh recommends testing all guests prior to getting together. For large indoor gatherings, she recommends masking. If you're unsure of where to buy the best at-home rapid tests, we have a guide for that here.
The same guidelines about fit and quality for adult medical-grade masks also apply to kids: They should be made of at least two layers of non-woven polypropylene plus a melt-blown inner filter layer, and, ideally, they should be independently tested by a third party to ensure proper filtration. They should also fit securely, covering the nose and mouth completely without causing discomfort and creating a tight seal at the edges with no gaps. In addition, DiBardino says that the best masks for kids are the ones that fit their faces best. Look for features that improve the fit of a mask such as adjustable ear loops or an adjustable nosepiece. She also points out that children should only be wearing masks if they are able to remove them without assistance. That's important to ensure there is no suffocation risk. Parents should instruct their children not to touch their face when wearing masks and should direct kids to wash their hands immediately after taking masks off.
If your kid refuses to put one on, Dr. Sten Vermund, a pediatrician, infectious-disease epidemiologist, and dean of the Yale School of Public Health, says that making mask use fun and gamelike will increase the chances of children cooperating, especially younger children. He adds that mask use should be intermittent, and that masks should be as comfortable as possible, so kids don't get turned off by the idea. DiBardino recommends choosing a mask with a bendable nose piece. "They help form a tight seal," she says. Of course, there are other things, like social distancing and opting for outdoor playdates whenever possible, that also play an important role in stopping the spread of the virus. That said, DiBardino stresses that vaccination remains the leading public-health strategy to end the pandemic, saying, "Those who are able to get vaccinated should, to protect not only themselves but other people who cannot be vaccinated."
To help you find the masks both you and your children will like, we rounded up a bunch of cute effective and comfortable KN95s, KF94s and surgical masks for kids that follow Parikh, DiBardino and Vermund's recommendations. We've also included our top picks for fabric masks if you choose to double up and layer one on top of a surgical mask — double-masking should not be done with a KN95 or a KF94, as it can mess with the seal they create, making them less effective.
Best surgical, KN95, and KF94 masks for kids
We tested Evolvetogether's adult disposable masks after Strategist director of audience engagement Stephanie Downes raved about them. Like the adult version, these kids' masks are made of three layers that block 95 percent of bacterial and viral particles. We love them because they are tested by an independent laboratory and approved by doctors. Kids will love them because they're breathable and come with a sheet of funny and nontoxic stickers for customizing each mask. In addition, Evolvetogether recently launched a mask with KN95-level protection and KF94 shape. It has 4 layers of non woven fabric and a bendable nose wire.
DiBardino notes that fit is even more important with medical grade masks than with standard fabric ones, since "a poorly fit KN95 may give parents a false sense of security." KN95 masks, which look a bit like a bird's beak and stick out further off the face than surgical-style masks, are considered the Chinese equivalent to N95 masks. These FDA-registered KN95 kid's masks from Vida feature five layers of non woven material (two of which are melt-blown-filter layers), soft ear loops, and a bendable nose wire for a snug fit. They are also recyclable. The adult-size Vida KN95s come recommended by Kristy Drutman, host of the podcast Brown Girl Green, whom we spoke to for our article about sustainable face masks. Each order includes a prepaid return label so that you can send your masks back after use so the brand can properly recycle them.
Note: After hearing that some customers were sent something called M95 masks instead of the KN95s they ordered, we reached out to Vida for an explanation. The company says the M95s were shipped when their stock of KN95s was low. Had we ordered one thing and been shipped another, we would be very disappointed, but Vida insists they are no longer shipping out the alternative masks — a claim we can't verify. If you did receive an M95, we did a little research and found that, like KN95s, M95s are FDA-registered, tested by the same independent lab, and shown to provide 99-percent effective particle filtration.